The short of it...
Rest Inn Rivendell is a county permit-approved, lakefront, luxury 7/6 vacation rental home on 8+ acres that sleeps 20 and features custom furnishings, a fishing and boating dock, hot tub, two fireplaces, an outdoor fire pit, infrared sauna, hiking trails, and peace that you can sink into.
The backstory...
A dream had been simmering in our souls for over a decade. "Wouldn't it be wonderful," we'd dream and pray, "to create a home devoted to physical rest and spiritual renewal?"
As we dreamed, we remembered: the college students, the young professionals, the weary ministers in transition that had stayed with us for days, weeks, and months, who left saying that they experienced peace, a re-centering of their love for God, and a renewal of faith and purpose. They came to rest and left with a new respect for silence, a new pursuit of stillness, and a new commitment to emotional honesty.
And then, one surprising week in 2010, a dear friend partnered with us to make the dream a reality and Rest Inn Rivendell was born!
Rivendell is a permit-approved vacation rental home on Lake Taneycomo in Branson, Missouri. Surrounded by woods on three sides and water on the fourth, our retreat home rests privately on 8.6 wooded acres with a picture-worthy panoramic view of the lake. Each space has been created with rest in mind.
Every luscious bed,
quality mattress,
unique desk,
inviting chair,
and inspiring piece of art…
The hot tub, infrared sauna, 10' kitchen table, upstairs and downstairs fireplaces, the fire pit, hot tub, and custom boating and fishing dock…
All have been chosen to fulfill the home's purpose as a resting place for vacationing families, solitude-seeking individuals, staff meetings, retreats, reunions, and celebrations.
When not being used by families and groups, Rivendell hosts guided prayer retreats and mentoring encounter retreats for Christian professionals in the marketplace and church.
As a family of special needs children, Rivendell is smoke-free, pet-free, and wheel chair accessible. As a writer (Alicia), each room has been crafted to refresh creativity. As an outdoorsman (Barry), the grounds are accessible yet untamed and the fishing dock-well, you'll want to stay a good, long while.
Welcome... into our dream.
spread the word
Add this badge to your website: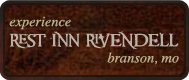 Copy/Paste this code into your site:
view bedrooms






Please
email us
for availability and reservations.